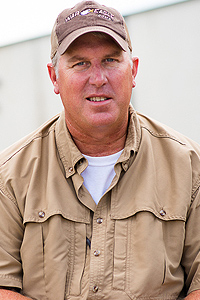 Mike Ward
President, Team Ward Inc.
Hometown: Monticello, AR
"The wings transom design is one of the best features allowing the boat to turn and handle better. Also, the T-Lock Cap Rail which allows for easily attached accessories."
The Ward family has a long-standing tradition of manufacturing high quality aluminum boats, but it was in 1992 that Mike Ward put his first War Eagle Boat in the water. When Mike was only 24, he founded the company that would grow to become the nations' most versatile aluminum boat manufacturer.
The first War Eagle Boat was a 15 foot aluminum jon boat, named the 542F. From that very first boat, War Eagle Boats have had identifying characteristics that set them apart from other aluminum boats. Mike recognized an inadequacy with many aluminum boats: their tendency to slide in tight turns. At the time, several aluminum boat manufacturers were designing hulls that were square and flat with distinct corners. Mike envisioned a transom that curved up and in, like wings. The wings transom gave the boats improved lift and better maneuverability.
After the hull design was set, he needed to add a multi-functional cap rail. In 1992, Mike finished his design for the T-Lock Cap Rail System. He spent a lot of time engineering the cap rail so that it looked clean, but served a very important purpose. His hard work paid off. War Eagle uses their cap rail system to attach a wide variety of removable accessories.
War Eagle's first camo job took all day to paint and looked like the camo paint you find on old army trucks. Still Mike kept refining the techniques, determined that it could work. It did work. War Eagle became the first boat company to be licensed by Mossy Oak, RealTree and Advantage camouflage companies.
If you visit War Eagle, you aren't likely to find Mike Ward in his office. He is often found working in the research and development department in the plant. His main goal is product engineering, always looking for a way to improve on his product. When asked what he is most proud of, he responds, "I feel very fortunate to be blessed with the ability to put a team of people together, all working towards one goal-- to build the best product for our customers."