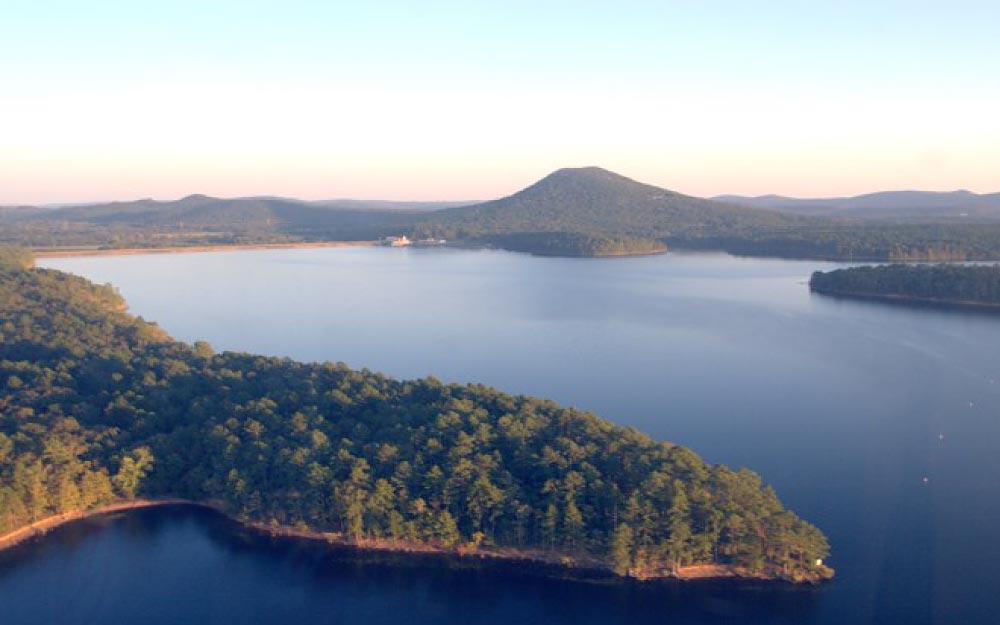 A new loop in the trail system around Lake Maumelle in central Arkansas will take visitors on a tour of scenic views among the open forests of the Ouachita foothills and offer a leisurely fishing opportunity.
The 2.3-mile Bufflehead Bay trail was completed this fall, offering opportunities to bird-watchers and other conservationists looking for a secluded adventure without the long drive to a remote destination.
The extension is one of many enhancements made to the area surrounding Lake Maumelle in recent years. Another trail to the west of Bufflehead Bay, named Farkleberry Trail, offers a one-mile, out-and-back hike with views of the lake as well as access to bank angling.
The Bufflehead Bay Trail sprouts from the end of the previous Bufflehead Bay spur just west of Westrock Landing on Highway 10, at about the midsection of the lake. The first half-mile section is a paved path alongside the waterfront, with benches set every 100 yards for people to bring along a rod and reel and enjoy some fishing in the marina bay.
The managed open portion of the forest is filled with showy flowers from spring until fall that produces heavy amounts of seeds for birds ranging from eastern wild turkey to American goldfinch.
The project was the culmination of many partners contributing knowledge, expertise, and funding.
The first stage of the trail was built in 2014 with funds from a wildlife observation trail grant developed with money from gas lease revenues to the Arkansas Game and Fish Commission. The Audubon Society of Central Arkansas added a small platform near the water at the end of the previous trail to encourage more use from birdwatchers.
The CAW and the AGFC worked together throughout the project, but also called on staff from The Nature Conservancy to design the trail, one of their areas of expertise.
Visitors are reminded that trails on Lake Maumelle travel through the Maumelle River Wildlife Management Area, which has some portions of land open to small game hunting as well as shotgun and archery deer hunting during open seasons. Wearing blaze orange or other brightly colored clothing during fall is recommended.
Nov 25, 2021 -