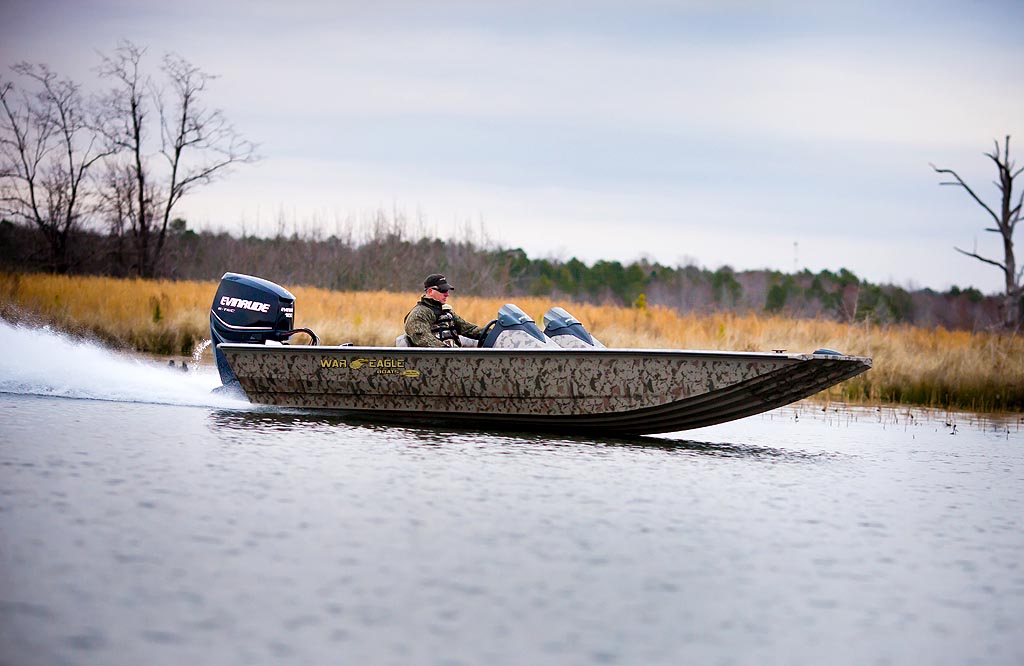 Jul 25, 2013 - At War Eagle, our boats aren't just for fishing. They're for hunters, too. In fact, the War Eagle 961 Blackhawk made Wildfowl magazine's 2012 list of the world's 11 best duck boats.
Here's what Wildfowl had to say about the War Eagle Blackhawk Series:

"If you're a fan of the War Eagle 2170 Blackhawk, but are looking for a paired down version, consider the 961. It's basically the "mini" 2170. The 961 is still a good-sized duck boat at 19½x61, so don't be too worried about running out of room. Standard equipment includes: center console with an insulated bait well (if you limit early), console handrail, 18-gallon built-in fuel tank, GatorHyde spray liner…you get the idea. The standards are like features on other boats."
And don't forget our floating duck blind, the Ducktoon, which places you where the ducks are. It accommodates four to five hunters, is almost 11 feet long by 9 feet wide, provides a stable shooting platform and is easily moved with a trolling motor. Plus, it comes standard with real grass sheets for concealment.
We can't outfit them with satellite TV or mini-refrigerators, but we think you'll enjoy them anyway.