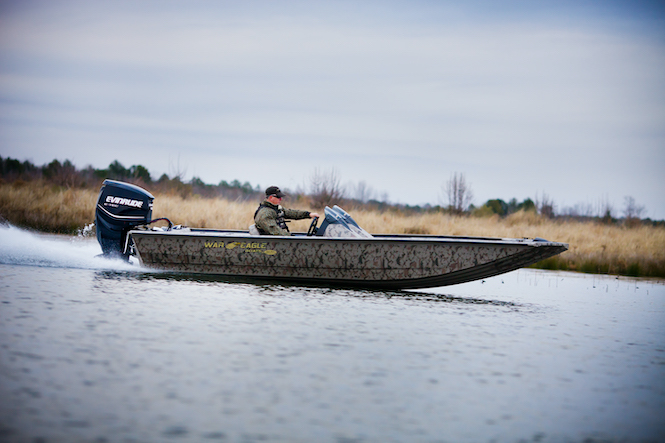 Arkansas Boating Education Courses in 2023
The U.S. Coast Guard has compiled data that shows inexperience is one of the leading causes of boating accidents. It accounts for approximately 77% of fatal boating accidents.
This is why boaters should consider taking a boating education course. It ensures they comply with Arkansas boating laws and regulations. What's more, it provides boaters with the knowledge and skills they need to safely operate their War Eagle Boats.
Who Needs Boaters Education in Arkansas?
The Arkansas Game and Fish Commission (AGFC) has a mandatory boater education prerequisite. Boaters in the state who were born on or after January 1, 1986, and are of legal age need to have an Arkansas boating license on board when the vessel is underway.
This requirement applies to all types of vessels used for hunting, boating, or fishing on Arkansas waterways.
Once complete, boaters will receive a boater education card. It is proof that they have completed all boater education requirements mandated by the state. When they take their boats out, they must carry their card and have them available for inspection by on-water enforcement officers.
Boating Courses Recognized by the Arkansas Game & Fish Commission
While taking boating education courses is important, the AGFC and on-water enforcement officers may not approve some courses. Here are some approved boating courses:
Arkansas Boating Safety Course
This is an in-person course offered by the AGFC. It covers the rules and regulations for boating in Arkansas, as well as basic boating safety information.
NASBLA Approved Online Course
The National Association of State Boating Law Administrators (NASBLA) has approved several online courses that are recognized by the AGFC. These courses provide comprehensive boating safety information. Boaters can access the courses online at any time.
America's Boating Course
America's Boating provides boaters with a comprehensive education in boating safety. It includes topics such as:
Boating laws and regulations, Boat handling and safety, Personal flotation devices, Navigation, Emergency procedures
Other NASBLA-Approved Courses
The AGFC also recognizes other NASBLA-approved boating safety courses. This includes courses offered by the US Coast Guard Auxiliary and the US Power Squadrons.
Boating Safety for Youth
This course is designed for young boaters. It teaches them about safe boating practices, rules of the road, and water safety.
Enhance Your Boat Safety Today
To keep you and your War Eagle Boat safe, you need to enroll in an AGFC-approved boating course. Learn more about boating safety on our website.